Giving up certain foods during pregnancy is not easy. I gave up caffeine – for a short while – but I haven't been able to give up soft cheeses, entirely, and giving up sushi has been a real challenge, especially when my 6 1/2 year old son asks if we can have sushi for dinner.
I asked the people over at Harney Sushi my favorite sushi venues in all of San Diego) if they could put together a safe list of menu items that pregnant women can enjoy and they happily obliged.
"Since there hasn't been any outside research on this, we prefer not to call it the "pregnancy safe list" but rather the 'Non Raw Sushi List,' says Harney Sushi chef, Ian Kadane.
Hippie Roll (vegetarian) – Tempura sweet potato, shitake mushroom, avocado, cucumber and topped with tempura flakes.
Emily Roll (vegetarian) – Cucumber, yama gobo, sprouts and topped with avo.
Veggie Roll (vegetarian) – Fresh cucumber, avocado, radish sprouts and yama gobo.
Cucumber or Avocado Maki (vegetarian)
California Roll – Crab salad, cucumber and fresh avocado.
Flaming Lip Roll – Tempura cali roll with cream cheese. Topped with spicy mayo and jalapeno slices.
Tater Todds – Halibut wrapped around rice balls, topped with spicy mayo. Baked until golden and topped with eel sauce.
Miso Harney Roll – Eel, cream cheese and avocado. Then tempura fried perfection. Covered in eel sauce and sesame seeds.
Shrimp Tempura Roll – Two jumpo tempura Tiger shrimp, avocado, cucumber, crab salad. Topped with eel sauce. (Ask for no masago)
Soft Shell Crab Roll - Soft shell crab, crab salad, fresh avocado, cucumber. Topped with ponzu sauce. (Ask for no masago)
For those who want to play it safe, Kadane recommends strict vegetarian items. Items containing cooked fish or tempura also make great alternatives. "For pregnant women who miss the taste of sushi, this craving can often be satiated with the flavors of rice, seaweed, ginger, wasabi and various condiments rather than raw fish. Even something simple like a cucumber maki can satisfy the sushi craving."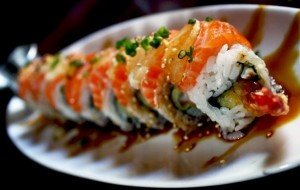 Kadane also encourages customers to sit at the sushi bar, especially if they have special needs. He personally likes to make baked rolls (which do not appear on the regular menu) for pregnant women.
While I haven't had a chance to check out this special menu just yet, I cannot wait to sample each and every one of the suggested items.
What is/was the hardest thing for you to give up during pregnancy? Be honest. I'm also really looking forward to enjoying a cold beer with my sushi rolls.
Good things come to those who wait.
Happy Healthy Hip Parenting
Peace Begins in the Home