At the beginning of the year, I committed to fully participating in the #NewYearNewMe weight loss challenge, sponsored by Larabar, Yoga Pulse, GoodBelly, Our Love Yoga and The CarbLovers Diet. It's been nearly 6 weeks since I made that first pledge, and the fact that I'm finding myself tightening my belt and pulling up my pants lately is just one sign that I've managed to lose the baby weight successfully.
Maintaining an overall healthy lifestyle another thing, all together.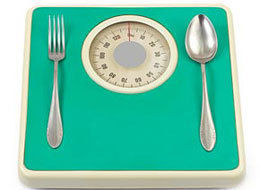 It would help if I had someone here to hold me accountable for my actions since my newborn baby certainly doesn't mind when I skip our daily stroll or when I devour an entire box of Girl Scout cookies in a 48-hour period. Ironically, these aren't included among the food choices in the CalorieStory app.
To say that it doesn't really affect anyone if I don't stick to my plan is so not true. It affects my entire family since I'm more cranky and less patient when I don't stick to healthy meals or if I skip my daily walk.
Where's my personal trainer when I need him?
Several bloggers around the country also took on this #NewYearNewMe challenge:
I'll be checking in with them throughout the next few months and asking them to check-in with me, too. Otherwise, I'm afraid I might fall off the wagon again, so to speak. In regards to eating healthy and maintaining a regular exercise routine, I'm really the only one who can hold myself accountable.
One day at a time…

Happy Healthy Hip Parenting
Peace Begins in the Home